How to Use a Banner Stand to Attract More Customers into your Shop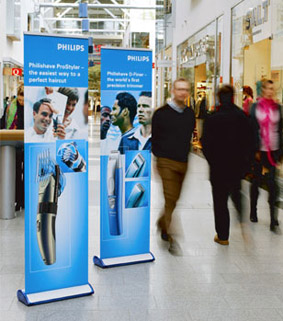 As you already know, banners are very effective advertising tools that will help to drive traffic and bring more sales to your business. Banner stands require little to no man power because it can be placed at any location and will be effective on its own. It will attract people instantaneously as the banner itself will act as a person spreading your message or promotion to your audience. In addition to saving manpower, banner stands are very affordable and are normally a one-time fee. Here is how you can effectively use a banner stand to attract more customers to your business:
Strategically place your banner stand in a location that is busy so that more people will see your advertisement. A good place for banner stand placement would be at the entrance of your shop or near your cash register. Banner stands are also amazing to use as a backdrop for events.
Make your designs simple so that people can quickly get the message you are sending out. Try not to put too much text on your banner to avoid it being too much of a distraction.
Use colors on your banner that will pop and capture people's attention. Use colors like red, blue, green and black to help your banners stand out.
Add some graphics to your banner to make your banner more interesting. This will surely capture peoples' attention and make your store appear more inviting.
You can use the smaller banner stands on tables or counters to advertise or promote a product. This is perfect especially for new products.