Tips for Creating an Inviting Banner Stand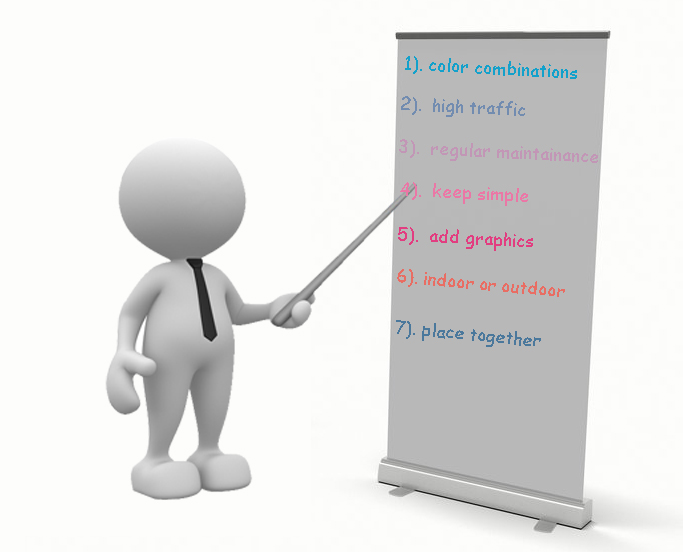 As we know banners and banner stands are quite effective when it comes to advertising or marketing your product or service. However, the actual design and content on these banners are what actually make or break you. Designing an effective banner takes some real thinking and strategy in order to attract customers to your business. There is nothing worse than an unattractive banner that is distracting. Follow these tips on how to design an effective banner and avoid an unattractive banner:
Use color combinations on your banner that complement each other. Avoid using two neon colors together as they are very bright and can distract your audience especially when it is very sunny. When sunlight hits a neon color, it can oftentimes be very blinding.
Place your banner or banner stand in an area that has high traffic. A good place would be in the front of your store of even facing traffic. This way when people drive by, they will notice your advertisement.
Maintain your banners and banner stands regularly with a damp wash cloth to help to help it keep its shape and last for many years to come.
Be sure to keep your message simple but to the point. You want to say as little as possible but still be able to get your entire message across. Too much text can also be a distraction.
Be sure to add graphics to your banner to help it stand out. Brand recognition is very important because you want potential customers to remember your logo so that when they think of your product, they will automatically think of your company.
Depending on if you are placing your banner stand indoors or outdoors, you will choose the appropriate size. Indoor banner stands should be smaller than those that you plan to put outdoors. Large banner stands that are put indoors can oftentimes be distractions and small banner stands that are placed outdoors are oftentimes unnoticed because people cannot easily see it while passing by.
You can get several banner stands and place them together to create a mural backdrop. This is a good idea to place behind the registers of your business. This is will help to create a nice background as well as advertise to your customers. It serves as a 2-in-1 purpose.